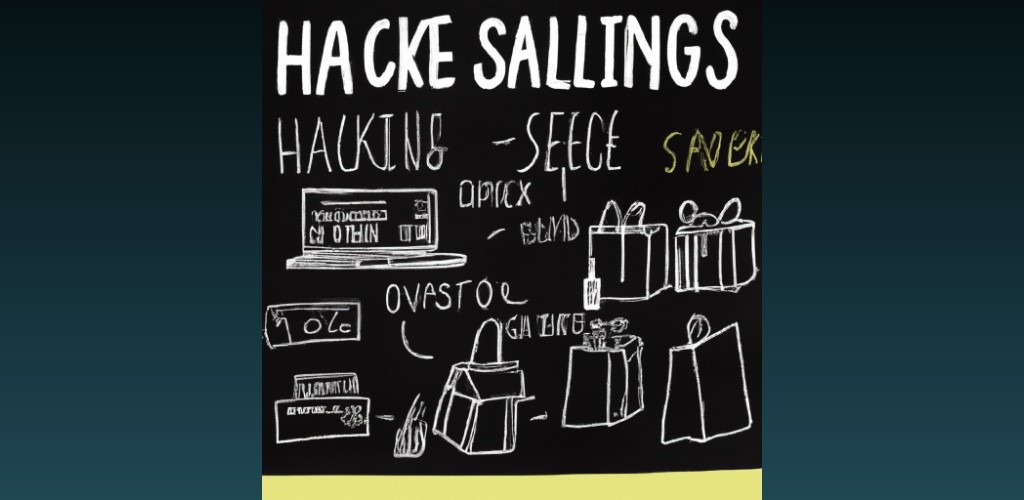 Online Shopping Hacks: 7 Tips & Tricks to Get the Best Deals
With the rise of e-commerce platforms, online shopping has become more popular. It offers convenience, multiple options, and competitive prices. However, finding the best deals and avoiding potential pitfalls can be challenging. To help you navigate the online shopping maze, here are some hacks and tips to enhance your experience and ensure you get the most bang for your buck.
1. Sign up for newsletters and create accounts
Many online retailers offer discounts or special promotions to their subscribers. By signing up for newsletters, you'll receive exclusive deals and be among the first to know about sales and discounts. Additionally, creating an account on your favourite shopping websites will save you time during checkout and grant you access to personalized deals.
2. Compare prices
One of the biggest advantages of online shopping is the ability to compare prices across different platforms easily. Use price comparison websites and browser extensions that automatically find the best price for your purchase item. Remember to factor in shipping costs, which can significantly impact the price.
3. Abandon your cart
This might sound counterintuitive, but sometimes abandoning your cart can work in your favour. Many online retailers track abandoned carts and try incentivizing users to complete their purchases by offering exclusive discounts or free shipping. So, if you're willing to wait a little longer, you might have a better deal.
4. Utilize coupon codes and cashback offers
Coupon codes are a great way to save money while shopping online. Before finalizing your purchase, search for coupon codes on websites specifically aggregating discounts. Additionally, consider utilizing cashback platforms to earn a percentage of your purchase amount in cash or gift cards.
5. Set price alerts
Waiting for the perfect time to buy a product? Set price alerts on price tracking websites that notify you when the price of an item drops to your desired level. This way, you can avoid compulsive purchases and get the best deal on the products you need.
6. Read reviews
Before purchasing a product, take the time to read reviews from other customers. Authentic reviews can provide insights into the item's quality, functionality, and durability. This will help you make an informed decision and avoid potential disappointments.
7. Check return policies
While online shopping offers convenience, returning or exchanging items can take time, especially if the retailer has strict return policies. Check the return policy before purchasing, especially for high-value or size-specific items. This will save you from potential headaches if you're unsatisfied with your purchase.
In conclusion, online shopping can be an exciting and cost-effective way to find your desired products. These hacks and tips enhance your shopping experience and ensure you get the best deals. Remember to compare prices, sign up for newsletters, use coupon codes, read reviews, and watch return policies. Happy shopping!
What are some reliable price comparison websites and browser extensions?
Regarding online shopping, price comparison websites and browser extensions have become indispensable tools for finding the best deals. These platforms help consumers save money by allowing them to compare prices across different retailers, ensuring they get the most bang for their buck. However, not all price comparison websites and browser extensions are created equal. Let us explore some reliable options that have gained popularity among savvy shoppers.
A. Camelcamelcamel: If you frequently shop on Amazon, then Camelcamelcamel is a price comparison website and browser extension you should consider. It tracks price fluctuations on millions of products listed on Amazon and provides historical data to help you make informed decisions. The browser extension lets you view price history charts directly on Amazon's product pages, making it user-friendly and seamless.
B. Honey: Honey is a popular browser extension that automatically scours the web for coupon codes and discounts while you shop. It has a vast database of coupons from various retailers, helping you save money effortlessly. Moreover, Honey's Droplist feature allows you to monitor price changes on specific items and receive alerts when they drop below a certain threshold.
C. Google Shopping: Google Shopping is a price comparison website and a powerful tool for finding the best deals on a wide range of products. Its user-friendly interface allows you to search for desired items and compare prices from multiple retailers. Google Shopping also offers filters to refine your search and sort results based on price, ratings, and other important criteria.
D. PriceGrabber: PriceGrabber is a comprehensive price comparison website aggregating product listings from thousands of online retailers. It allows you to compare prices across various categories and provides insightful product reviews. PriceGrabber also offers a mobile app, making it convenient for on-the-go shopping.
E. InvisibleHand: InvisibleHand is a browser extension that helps you find the lowest prices on products while you browse various online stores. It discreetly notifies you when better deals are available from different retailers. InvisibleHand supports many online stores and ensures you get all the great deals.
F. Pricena: If you're looking for a price comparison website focused on a specific region, Pricena is a reliable option for shoppers in the Middle East and North Africa. It allows users to compare prices across various categories while ensuring that relevant discounts and offers are displayed based on the user's location.
These price comparison websites and browser extensions can help you make smarter purchasing decisions while saving money. However, it's essential to be cautious and evaluate multiple options before settling on the best deal. Prices and discounts vary, so researching and considering shipping costs, customer service, and return policies is crucial for a well-rounded shopping experience.
What are the best coupon code websites to search for discounts?
Here are some popular coupon code websites that you can use to search for discounts:
RetailMeNot: RetailMeNot offers various retailers and online stores a wide range of coupons and promo codes.
Honey: Honey is a browser extension that automatically applies coupon codes at checkout. It also has a feature that shows you the best available deals for the products you're browsing.
Coupons.com: Coupons.com provides printable and digital coupons for groceries, household items, and more.
Groupon: Groupon offers discounts and coupons for local businesses, travel, restaurants, and more.
Rakuten: Rakuten offers cashback and coupon codes for a wide range of online retailers. You can earn cashback on your purchases and also find discount codes.
Slickdeals: Slickdeals is a community-driven website where users share and vote on the best deals and coupons. It covers a wide range of products and categories.
Brad's Deals: Brad's Deals curates the best deals and coupons from online and in-store retailers.
CouponCabin: CouponCabin provides coupons and cashback offers for various retailers, including popular brands and stores.
It's always a good idea to compare prices and deals across multiple coupon code websites to ensure you get the best possible discount.
How can I identify authentic reviews from fake ones?
With the present technology available to us, where online shopping is not the norm, many people always look for ways to save money when making purchases. One of the most effective methods is to utilize coupon codes or discounts. However, finding legitimate and reliable coupon code websites can be a task. With numerous options available, knowing which websites are the best for searching for discounts and how to identify authentic reviews from fake ones is essential.
To begin with, let's delve into the top coupon code websites known for their extensive and up-to-date offerings. These platforms consistently offer users various discounts on various products and services. Here are a few noteworthy websites that are worth exploring:
1. RetailMeNot: One of the most popular coupon code websites, RetailMeNot boasts an extensive database of discounts for numerous online retailers. Users can easily search for promo codes or browse through trending offers. The site also contains a helpful community feature where users can share deals they find.
2. Honey: Honey is a highly convenient and user-friendly coupon code extension and website. It automatically applies the best coupon codes when you purchase, ensuring you get the lowest price possible.
3. Coupons.com: Coupons.com is known for its vast collection of printable coupons for groceries, household items, and personal care products. The website regularly updates its deals and offers, making it a go-to destination for those looking to save money on everyday purchases.
4. Groupon: While primarily known for its local offers, Groupon also provides users with digital coupons, promo codes, and discounted gift cards. It covers various categories, including travel, dining, beauty, and more.
Now that we have identified some reliable coupon code websites let's discuss how to differentiate authentic reviews from fake ones. With the rise of online shopping, the prevalence of fake reviews has also increased. To be sure that you make informed decisions based on genuine user experiences, keep the following points in mind:
1. Analyze the authenticity of the reviewer: Look for indicators such as an actual name, profile picture, fellow reviews, and a history of previous purchases. Genuine reviewers often provide detailed information and both positive and negative aspects of their experience.
2. Watch out for excessive positivity or negativity: Fake reviews are overly positive or negative without providing specific reasons or details about the product or service. Authentic reviews are more balanced and discuss both pros and cons.
3. Check for repetitive or generic language: Take note if multiple reviews use similar language or seem generic. This could be a red flag for fake reviews created by bots or paid reviewers.
4. Utilize review analysis tools: Various online tools, such as Fakespot or ReviewMeta, can help you analyze the authenticity of reviews by assessing patterns and language used. These tools often evaluate review length, sentiment, and overall credibility.
You can navigate the plethora of online reviews and identify the authentic ones carefully and diligently. Ensuring accurate information on the quality of products or services can significantly enhance your shopping experience.
In conclusion, when seeking the best coupon code websites for discounts, platforms like RetailMeNot, Honey, Coupons.com, and Groupon can be trusted sources. Furthermore, by applying some scrutiny and utilizing online review analysis tools, you can decipher authentic reviews from fake ones, making better-informed purchasing decisions. Happy shopping!
Last updated: Wednesday, August 2, 2023
Last updated on September 27, 2023 1:43 am